Dr PC Fix – Computer Repair and Sales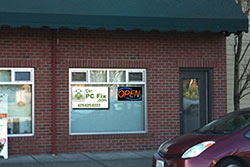 DrPCFix.com has been building great relationships with people by providing Guaranteed Satisfied customers since 2003.
If you are looking for online computer repair – you found us. We fix all types of laptop problems, not just desktops.
We are the most affordable online computer repair company there is.  We have a policy that if we don't fix it, we don't charge you.  AND – we never charge to just look at a computer, bring it by – we'll give you a free opinion!
We understand your business processes and goals and provide you focused well-informed technology solutions. Let us help you harness today's technology solutions and help you achieve your goals for success.
Introducing owner Jesse Kosalka
Jesse has been working on computers since he was in high school. He has a passion for technology and loves to share that with his customers. His specialties include virus removals and diagnosing computers on the spot. He is dedicated to fast and friendly service – as well as your satisfaction!